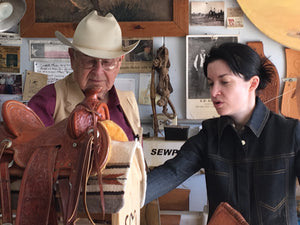 Celebrating cowboy culture with hand-crafted accessories and a commitment to preserve Western heritage
Amy Sheets, granddaughter of renowned Western icon Bob Marrs, is breathing new life into the saddle maker's legacy with accessories that echo the Panhandle
The Poinsettia-Paisley Bandana Collection
This signature bandana, introduced in 2022, was designed by Bob shortly before his death at the age of 94. Its classic poinsettia and paisley motifs reflect Texas history and the bandana's hand-crafted quality makes it a collector's piece.
@ the Saddle shop
Bob started his business in Amarillo, Texas, in 1954 and continued to hand-tool leather for over 62 years--well into his nineties. His saddles were highly valued by cowboys and ranchers, who recognized the beauty of the leatherwork as much as the saddle's legendary comfort and utility. A Bob Marrs saddle is something to cherish. In a 1981 photograph by Kurt Marcus, Bob shows off a custom saddle with his signature poinsettia design.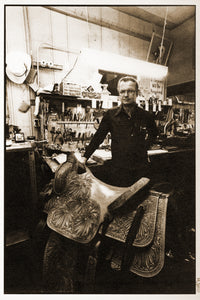 Our Pledge to You:
A portion of proceeds from the sale of this bandana goes directly to help fund our work as stewards preserving and continuing Bob Marrs' Legacy in the community and beyond! We pledge to increase the value of Bob Marrs saddles for collectors and customers alike as a result of this ongoing work.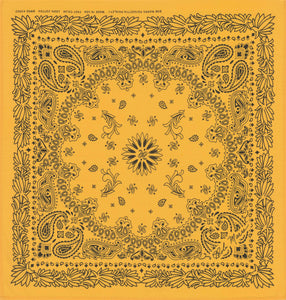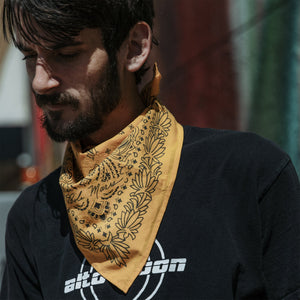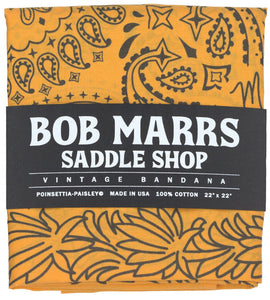 Blog
---
Add a little fashion drama without playing dress-up. Read on for the unique backstory behind our statement bolo necklace.
Blog
---
Get the scoop on why a drill-dance team was gifted our collectible Bob Marrs Poinsettia-Paisley Bandanas!