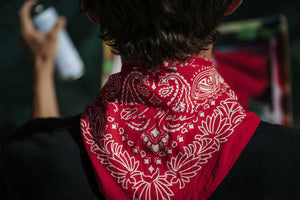 The Bob Marrs Poinsettia-Paisley Bandana Collection
---
Introducing Bob Marrs Poinsettia-Paisley
© 
Bandanas presented by Marrs Makers. Saddle Up and Collect them all!
At the age of 94 years young, Bob Marrs renowned saddle maker and western icon, completed his final artistic work applying his hand to a new medium, the American bandana. Deftly planting his flower-tooled poinsettia around the border of the enduring paisley, Marrs literally fenced-in the traditional bandana like barbed wire claiming the prairie! 
Add this limited edition, authentic piece of western history designed by Bob Marrs to your collection. 

Made completely in the USA. Hand-pulled, screen discharge printed article.
               Fast Color. Selvedge Edge. Composition: 100% Cotton  Dimensions: 22" x 22"
A portion of proceeds from the sale of this heritage bandana collection goes directly to help fund our work as stewards preserving and continuing Bob Marrs' Legacy in the community and beyond!
We pledge to increase the value of Bob Marrs saddles for collectors and customers alike as a result of this ongoing work.